Hope Haven Ukraine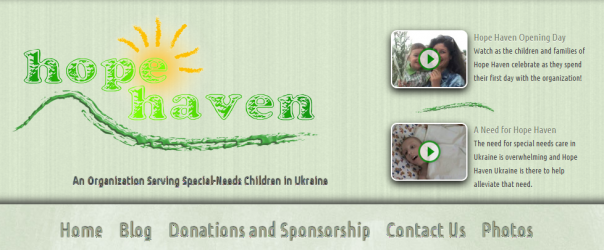 Hope Haven Ukraine is the first school of its kind in southern Ukraine, it provides education and therapies to disabled children/youth of the surrounding area. Children who once would have often been slated to be left at orphanages now have a place to go each day. Families can now depend on a local facility to provide interventions for their special children. To learn more about Hope Haven and it's needs, please read our blog post on Hope Haven Ukraine.
Since founded, Hope Haven Ukraine had been on a roller coaster ride financially and was in severe need of a website when they approached Derevo Design. To help accommodate the limited budget and to shorten turn-around time, WordPress was used as the development platform for the organization. A completely custom WordPress theme was created for the school as well as a few custom plugins for various elements on the site.
The website features embedded video content displayed in overlays for a seamless user experience, an active multi-user blog, a functional and spam-resistant contact form, as well as an entire image gallery powered by the organization's Flickr account.